Some weekends in South Florida, it seems almost criminal to stay indoors. Last weekend was a good example, and I was lucky enough to get to go sailing with Lisa and Ron, New World Symphony board members and owners of a ship called R & R.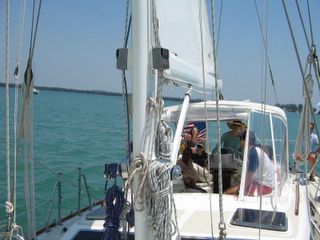 getting ready to hoist the sails

Seven other New World musicians also came, and we shipped off from Key Biscayne, where the ship is docked. Ron and Lisa have a beautiful ship, with lots of miraculous sailing gizmos that make things like hoisting the sails and figuring out where you are, not to mention flushing the toilets, wonderfully easy. They are still fun to do, though, and you can still yell out lots of pirate phrases, as Katie W. did while handling the tiller. I'm not sure what would be the appropriate pirate phrase to yell while flushing the toilet. Swab the decks?
a bunch of weak-knee'd land-lubbers

We sailed south in Biscayne Bay towards the highest point in Dade County, which is a dump called Mt. Trashmore. We had a nice lunch and traded stories and orchestra gossip while enjoying the beautiful day and the breeze on the bay. I got some nice photographs of downtown Miami as we turned back around towards the dock. We even saw some dolphins on our way in.
thar be land amast!

Enjoy the photos, and if you happen to be Ron or Lisa, thank you so much for inviting us!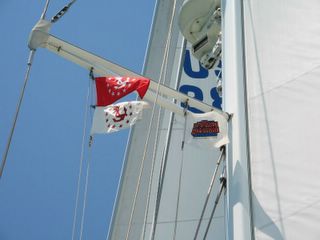 thar she blows!