Yesterday three other bass players and I drove up to Port St. Lucie to watch the Florida Marlins play the New York Mets, on a beautiful warm Friday evening. It was sort of senseless to drive all that way to see the Marlins up there, I realize, since after the regular season begins on Tuesday they'll be playing just north of Miami - there's something special about spring training, though, seeing all those big league players in a minor league stadium.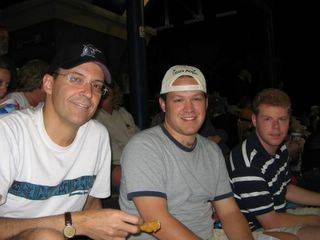 Steve, Andy, and Sean at spring training

We sat on a hill over the fence in right field, called the "Berm". Jeff Conine played right field for the Marlins for about half the game, then later Juan Encarnacion, a former LA Dodger, took over. Our screaming drunken neighbors had a great time yelling at Conine, but they couldn't say Juan's name very well, which limited their heckling.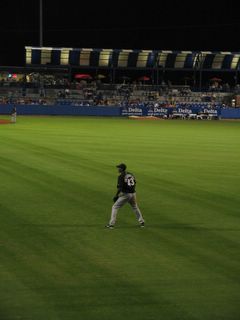 if you can't scream his name, you've had enough to drink

There were lots of fielding and pitching substitutions, giving everyone a chance to play. One of the Marlins pitchers we saw, Jim Mecir, is written about in a great book by Michael Lewis,
Moneyball.
Jim and the rest of the pitchers last night had trouble keeping runners off the basepaths, though, as the two teams combined to score 20 runs. The Marlins pulled away in the seventh inning with six runs. They led 11-4 going into the bottom of the 9th, but the Mets almost came back, with a two-out grand slam by Chris Woodward to pull to 11-9. That's the way it ended, though.
the final score, framed by palm trees

The Marlins and Mets play their last spring training game this afternoon, and the season officially begins tonight with the Red Sox playing the Yankees on national TV. I'll be playing Tchaikovsky, though.
my early World Series prediction: Mariners over Nationals in 6