I've been reviewing some books lately in
my Friendster profile
. If you have bookstore gift card money to burn (or a good public library!) you might want to check some of these out:
Saturday
, by Ian McEwan
You probably don't need to be a brain surgeon to navigate all the social, political, personal, and moral dilemmas faced by 21st-century people. Sometimes though, as in this novel, it might help.
Henry Perowne is a neurosurgeon (don't call him a brain surgeon, please) whose day on Saturday, February 15, 2003 begins with a chilling sight: a plane plumetting across the London sky in flames. It soon proves to be a relatively harmless malfunction, but the mood of pensive foreboding remains. It is a day marked by London's largest anti-war demonstration before the Iraq invasion, and McEwan draws a fascinating portrait of how that conflict permeates a city and an individual's consciousness.
Had I met Perowne, a grudging war supporter for humanitarian reasons, I probably would have argued fiercely against him, as his daughter does at one point in the novel. Reading this helped me to realize, though, that a sensible person could approve of military action in Iraq for rational reasons. Even now that many of the worst predictions have come true, this novel reminds of the confusion and ambivalence of that time. It rarely leaves Perowne's thoughts, even while shopping for fish or visiting his senile mother. All private thoughts and actions seem to center around this defining public event, so distant and yet so inevitable, so inescapable.
The novel explores deeply the complexities of national and personal conflict, but it is not simply a rant, or a fictionalized op-ed piece. The plot is carried along by the series of encounters and challenges facing Perowne, with a shockingly climactic finish.
An excerpt from the novel is available online:
"The Diagnosis"
appeared in
The New Yorker
last spring.
***

Chinese Whispers
, by John Ashbery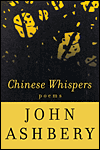 Please don't confuse this author's name with John Ashcroft, the crooning attorney general. Ashbery is one of my favorite poets, and his writing sings with evocative turns of phrase, cliches twisted into new forms, and curious surprises. The book's title is the British name of the game known to Americans as 'Telephone,' in which the words of a story transform with each retelling.
Ashbery's poetry revels in linguistic games and puzzles, the playful intimacies suggested by "Chinese Whispers," and verses which seem to deconstruct familiar patterns of speech. Here's a bit from one called "Like Air, Almost":
And when the post-climax happened
in soft shards, falling
this way and that,
signing the night's emeralds away,
we took it to be a sign of something.
"Must be a sign of something."
Then the wind came on, and winter with it.
"Why, weren't we just here,
five minutes ago?"
I thought I'd have another look,
but that way is all changed, and besides,
no one goes there anymore,
it's too popular.

Just one fragment
is all I ever wanted,
but I can have it, it's too much,
but its touch is for another time,
when I'm ready.

Crowd ebbs peacefully.
Hey it's all right.
I tend to read more prose, but I love how Ashbery's poetry seems to awaken the unconscious, making me feel more alive to all things, written and heard. Highly recommended for anyone who enjoys incandescent phrases and inspired nonsense.
***

"A Christmas Memory," "One Christmas" and "The Thanksgiving Visitor," by Truman Capote
These three holiday stories are published in the Modern Library edition shown here. Lots of people have been reading and talking about "In Cold Blood" since the film release, but the hold queue for that book was too long at my library, so I checked this out instead.
Getting into the holiday spirit is a little bit difficult in warm southern climates. Still, Capote's stories are reminders that it exists wherever there are little kids:
Snow! Until I could read myself, Sook read me many stories, and it seemed a lot of snow was in almost all of them. Drifting, dazzling fairytale flakes. It was something I dreamed about; something magical and mysterious that I wanted to see and feel and touch. Of course I never had, and neither had Sook; how could we, living in a hot place like Alabama? I don't know why she thought I would see snow in New Orleans, for New Orleans is even hotter. Never mind. She was just trying to give me courage to make the trip.
Miss Sook Faulk is the 6-year old narrator's elderly cousin and best friend, and she is the most memorable, vivid, and lovable character in all three stories. In the first, they assemble a batch of fruitcake; the narrator journeys to New Orleans to meet his father in the second; and in the third, a savage bully visits for Thanksgiving.
Like holiday meals, the stories are filled with delights that would almost be too sweet any other time of year; their nostalgia is tinged with darkness, though, and all the cruelties, confusion, and fears of childhood. They can each be read independently, but stand together well as a collection, drawing a warm picture of friendship and holiday memories.
You can also
hear "A Christmas Memory" read by Capote
, courtesy of NPR and
This American Life
. Skip to 21:00 or so.